First released in 2009, Moxa's Turbo Chain significantly extends ring topologies, expanding these network backbones much more flexibly, economically, and conveniently than traditional ring coupling allows. Turbo Chain can be adapted to virtually any environment to deliver the most cost-effective solutions around, empowering you to create complex Ethernet solutions with the strong reliability and assured availability of full ring redundancy.
Flexible and Expandable Redundancy
With Moxa's Turbo Chain, engineers have the flexibility to grow their ring networks with minimum effort and maximum ease-by simply extending the backbone with Turbo Chain. Turbo Chain is a technological adaptation of daisy chains that allows unrestricted network expansion without requiring the full reconfiguration or rewiring of an existing network. With the simple addition of Moxa's Turbo Chain devices, you can immediately scale up networks with new branches without sacrificing any redundancy, security, or speed.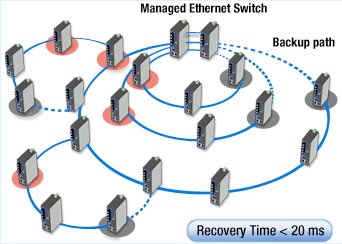 Self-Healing Recovery Technology
Just like Turbo Ring, Moxa's Turbo Chain provides automated recovery from network failures. If a network node fails, Turbo Chain will activate a backup route within 20 milliseconds. Additionally, Turbo Chain can be used side-by-side with the RSTP and STP redundancy protocols, giving it increased resiliency while also making it a convenient addition to existing industrial Ethernet systems.


Cost-Efficient Deployment
Turbo Chain is a cost-efficient configuration shortcut, allowing the straightforward connection of independent, redundant chains without any further coupling steps. There is no need for re-wiring the backbone: simply connect the head and tail nodes to switches already connected with Turbo Ring, and set the intermediate nodes as members. Turbo Chain allows you to daisy chain a series of nodes into a new network branch without having to wire a full second ring, making it ideal for applications that have strict cabling or budget limitations but which still demand strong network redundancy.