MRX SERIES
Cellular radio (LTE/HSPA/UMTS/EDGE/GPRS), 5 Ethernet ports, 2 inputs, 3 free MRcard slots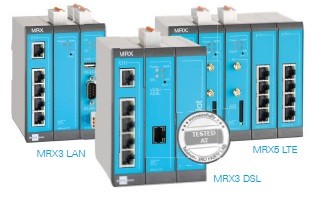 Flexible. Powerful. Future-proof.
M2M Communication Technology that adjusts to your needs
Changing demands requires fl exible solutions. Modularity is the answer to this challenge.The new MRX industrial router series provides you with the necessary scope for developing future and investment-proof applications and adjust them if required. This results in an optimum cost/performance ratio and extended service life.
Like all routers of INSYS icom, this fully-modular platform is characterised by very high system stability, longevity and consistent user guidance. VPN, a stateful fi rewall and further IT security features are integrated. An integrated Linux programming environment: based on LXC technology allows execute programs and scripts on an MRX in the so-called icom SmartBox (edge computing).
The new MRX series is available in two basic variants, LAN and LTE, each in two housing widths. It can be tailored to the application using various plug-in cards (MRcards) that can also be developed customer-specific.
Highlights
High performance for broadband networks
and high VPN data rate
Dynamic routing
Dual APN: Traffi c division across 2 APNs
Several VPN tunnels can be used in parallel
Stateful fi rewall also in VPN tunnel
Segmentation in several local IP networks
Flexible administration with profi le manager
Extended event-based control (e.g. profi les, connections, redundancy)
Access control via user roles
Integrated Linux environment for edge computing (icom SmartBox)
PPPoE for external ADSL modem
Quick start for icom Connectivity Suite – VPN