Moxa first made a name for itself as a world leader in industrial networking ring technologies. Turbo Ring is the backbone of our self-healing innovations, conferring fast, 20-millisecond-or-better fault recovery onto a full load of 250 switches in any of three basic topologies. Turbo Ring is an efficient means for automation engineers to reduce redundancy planning and cabling costs while simultaneously ensuring the reliability and high availability of your industrial network.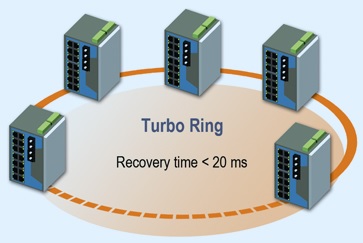 In 2007, Moxa delivered the world's fastest ring recovery with its line of Turbo Ring Ethernet switches optimized exclusively for ring topologies. Moxa's routers and switches were the first in the world to provide network recoveries that clocked in at less then 20 milliseconds, outperforming all others in the industry. In addition, this second version of Turbo Ring delivered network scalability up to 250 nodes, another first for the industry.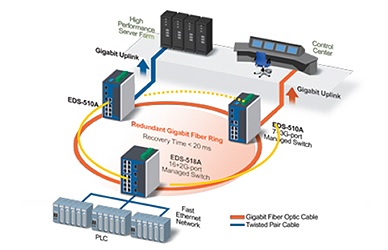 In 2009, Moxa pushed industry limits even further by unveiling Turbo Chain, the chaining technology that allows network engineers to design and quickly deploy complex networks while maintaining the reliability and redundancy that ring technologies are expected to deliver. Again, Moxa technology was the first to deliver the combination of full RSTP compatibility, rapid no-down-time deployments and simplified configurations with the full range of chained topologies.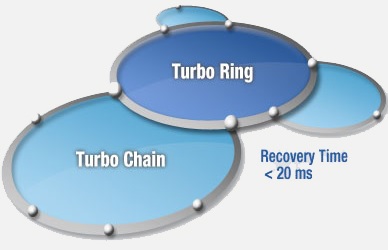 Finally, Moxa's Turbo Ring and Turbo Chain switches are among the easily and efficiently deployed in the industry. With three different ring coupling technologies, elimination of coupling and control lines, automated setup utilities, and simple, intuitive configuration interfaces, Moxa switches save automation engineers considerable deployment time and effort, reducing the drudgery of complex installations so that attention may be focused on more important elements like design, control, and safety