XL+ SERIES
Laminated 15" XGA Full Colour Resistive Touch Display. Multi Core ARM CPU. Two 10/100/1000 (Auto-MDIX) Ethernet LAN ports. Built-In Digital and Analogue I/O with quad 500kHz high-speed counters. USB Programming. High capacity microSD slot (up to 128Gb max). Three (3) RS232/RS485 serial ports, Three (3) USB A ports and one (1) USB mini-B port, two (2) CAN Ports. Mic In and Audio Out. Wide-range DC power (10 – 30VDC). Support for full-screen video streaming and Playback, mini display port output support (1080p resolution). Polycarbonate Coating for improved durability.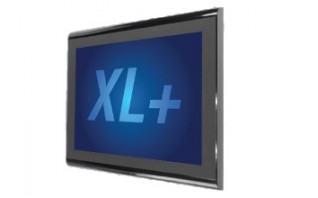 WIDE ASPECT COLOR TOUCHSCREEN
The X5 really packs a big picture into an overall small package. With just a 4.6" x 3.5" cutout, this 4.3" wide aspect screen is very friendly, intuitive, and clear. By
incorporating our hidden soft key technology, you can use the entire screen to illustrate your specific applications.
STREAMLINED I/O
In an effort to make implementing Horner OCS controllers as seamless and user-friendly as possible, we have selected a streamlined set of on-board I/O.
4 digital inputs, 4 digital outputs, and 4 analog inputs make automating your applications, and your organization, as simple as the push of a (virtual) button.
PERFORMANCE
When it comes to speed, resolution, and technical capabilities, the X5 is leading the way. We have developed an entirely new design techniques, yielding fast
processor speeds, a suite of capabilities similar to our more established XL line of products, and unprecedented acceptance across an array of commercial and
industrial applications. In the market of fixed I/O, web-compatible controllers, the X5 is unmatched.
COMPETITIVE ADVANTAGE
The simplistic overall design of the X5 has empowered our team of driven engineers to develop a product at the forefront of leading technology, creating
an opportunity to take advantage of commercial economies of scale. The state-of-the-art design, coupled with economic efficiencies position the X5 as more
than a technological milestone – it's a competitive industrial leader.