SCR SERIES
4G router, 2x LAN, 1x RS232, 2x digital input, 2x digital output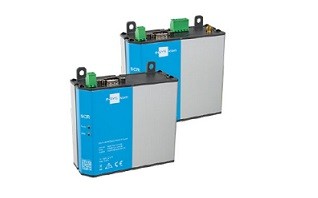 Smart, Compact VPN Routers
The routers of the SCR series are IoT gateways of the special kind. They provide latest technology in a compact, flexible mountable housing for a very attractive price.
The SCR series is available in 4G and LAN versions, both optionally as I/O variant. Users can connect both, IP-based and serial devices, to this Smart Device locally. This allows to transform elder existing plants in modern IT environments with a retrofit. The two mounting directions make an SCR suitable for both, a switch cabinet in industrial environments and flat building connection boxes.
Besides the INSYS operating system icom OS, the icom SmartBox is also on board, an integrated Linux environment that allows to execute scripts and programs directly on the router based on so-called containers.
Therefore, an SCR router can not only be used for secure remote maintenance and control, but also for capturing and processing application data within the scope of edge computing. This also allows to monitor the conditions and values of connected devices and realise reporting or benchmarking across different plants thanks to plug & play connection to cloud services.
Highlights
LAN and 4G version
I/O variants for each version
available
Compact, flat housing
Installation in distribution boxes and switch cabinets
Wall and DIN rail mounting
Interfaces for IP-capable and serial devices
Stateful firewall also in VPN tunnel
Strengthened operating system
Integrated Linux environment for edge computing (icom SmartBox)
PPPoE for external ADSL modem
Quick start for icom Connectivity Suite – VPN