MRO SERIES
All-in-one Cellular 4G Router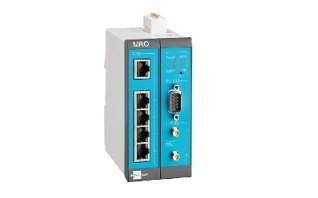 Compact Power Pack for secure M2M and IoT applications
Latest technology and high performance combined in a compact housing characterise the professional routers of the new MRO series. The fi rst devices of the series is the LTE router MRO-L200 that is also available as US version (MRO-L210).
Besides its 4-port switch, an RS232 interface as well as digital inputs and outputs are available. With the integrated icom SmartBox, a Linux environment based on LXC technology, the router provides an operating system-independent platform, for example for local storage and processing of data or executing further programs and scripts (edge computing).
Like all routers of INSYS icom, the devices of the MRO series are also characterised by high system stability, longevity and consistent user guidance. VPN, a stateful
fi rewall and many other security features like event-based messages provide for security.
Highlights
High performance for broadband networks and
high VPN data rate
Dynamic routing
Dual APN: Traffi c division across 2 APNs
Several VPN tunnels can be used in parallel
Stateful fi rewall also in VPN tunnel
Segmentation in several local IP networks
Integrated Linux programming environment
(LXC) for edge computing (icom SmartBox)
Flexible administration with profi le manager
Extended event-based control
(e.g. profi les, connections, redundancy)
Access control via user roles
PPPoE for external ADSL modem
Quick start for icom Connectivity Suite – VPN